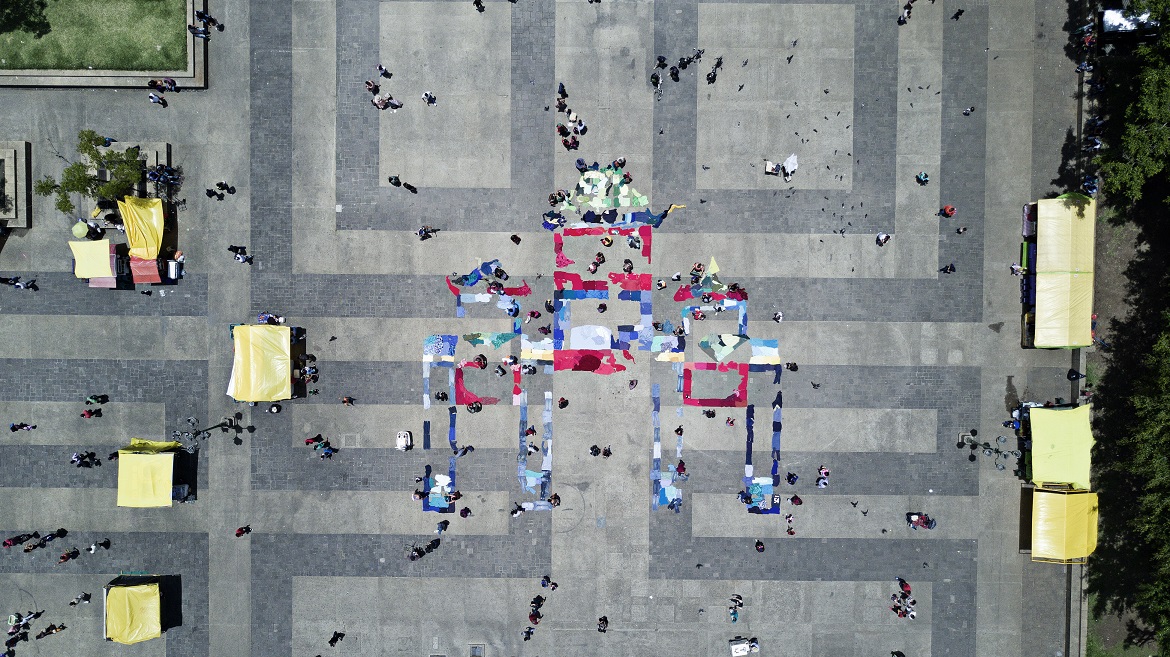 Ruta de la Seda, 2017.
Este proyecto se basa en un anti-monumento, una instalación efímera. Las fotografías resultantes con el registro de una de acción en la Plaza Central de la ciudad de Guatemala.
Alrededor de 500 prendas de ropa son colocadas sobre el suelo de la Plaza Central de Guatemala a manera de un arco chino tradicional. Una instalación que recuerda el arco chino que existió en el año 1921, pues fue la manera en que la Colonia China de Guatemala rindió homenaje para el centenario de independencia del país. Dicho arco fue construido en donde hoy día está construido el Palacio Nacional de la Cultura y fue removido para dar espacio para la construcción de la Plaza y su Palacio Nacional más como se encuentra hoy día.
Pensando en imágenes/monumento sque aparecen y desaparecen en el tiempo, y utilizando materiales encontrados en ventas locales de ropa de segunda mano producidas en algún país de Asia. Pensando en cómo esta ropa alude a cuerpos desplazados, no solamente por quienes han utilizado las prendas sino también a quienes las han elaborado, y así utilizo estos fragmentos para construir una imagen que sin erguirse sobre sí misma recuerda al arco chino que existió en la plaza de la constitución. Un arco que desaparecería luego, pues las personas que pasaban su domingo allí fueron invitadas a tomar las prendas que quisieran y así continuar su ruta. Lo cual a su vez reconstruyó esas prendas colocadas sobre el suelo, como recibiendo el sol como suele suceder en la dinámica de ese tipo de economía.
ENGLISH
"Silk Route", 2017 is the result of using more than 500 second hand clothing pieces, to build what I call an anti-monument, recalling an Chinese Arc constructed in 1921 at Guatemala's Central Park, years later demolished to build today's National Palace. Such monument was a Celebration by the Chinese Colony in the country, for the centenary of Guatemala's Independence. The clothes selected for this ephemeral piece were all produced in Asia, since I collected such materials for several months buying for street vendors. Showing one from several relations between Guatemala and Asia in the globalized context. The anti-monument was disintegrated when people at the Plaza took the clothing they wanted following mine invitation to do so, in the end the "silk" continued its route and the image as the monument vanished.